Recently, Vietnam has become more and more popular as an ideal place to operate motorcycle tours. Breathtaking landscapes and diverse terrains are what make this country exceedingly attractive. If you are planning to travel to Vietnam, you can quickly realize that there are a lot of excellent off-road motorcycle tours in the North. But if you want to experience a balanced on-road and off-road motorcycle tour, then a trip from Hanoi to Mai Chau via Ninh Binh is probably one of the best options. With many engaging attractions, this trip will surely bring you priceless experiences.
Day 1: Hanoi – Ninh Binh
Before we start, you need to rent or buy bikes like Honda CRF250L, DRZ400, or XR150L since they are all suitable for on-road and off-road motorcycle tours. Setting off from vibrant Hanoi city, we follow the Red River and move toward Ninh Binh – the old capital of Vietnam. On the way, you will witness the tranquil life of the suburbs with small houses, hard-working people, vast paddy fields, etc. But that scene will quickly be replaced with sublime limestone mountains.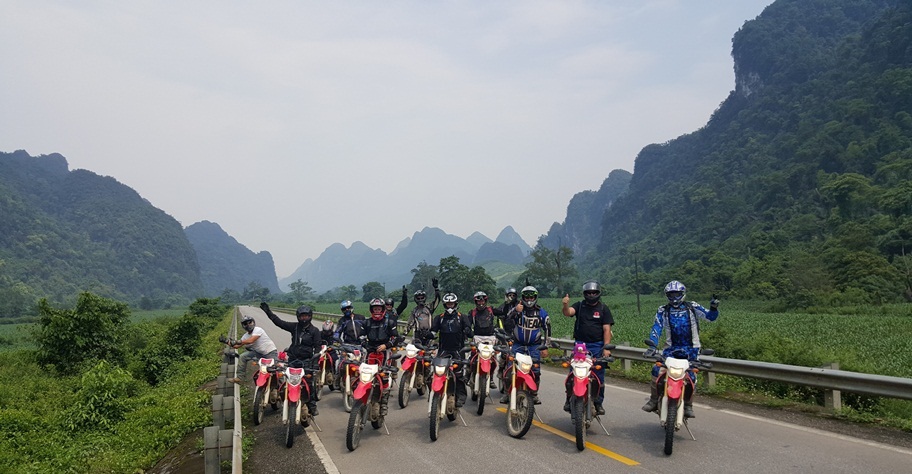 Van Long – the famous ecotourism site of Ninh Binh – is our first stopover. Known as the largest wetland nature reserve in the North Delta, Van Long maintains its wild beauty so well that tourists may feel like they are lost in a different world. The remarkable landscape of towering mountain ranges, rich flora and fauna, and myriads of caves are waiting for you in this area.
Traveling to Ninh Binh without visiting Tam Coc is like coming to Paris without touching the Eiffel Tower. Tam Coc is undoubtedly a highlight of this province. Tam Coc beauty spot actually includes two sites, namely Tam Coc and Bich Dong. The best way to explore this area is by sailing a boat. Floating on the crystal clear water, you will slowly discover several charming caves through the mountains.
Day 2: Ninh Binh – Mai Chau
On the second day of the trip, we will together explore Mua Cave – probably the hottest attraction for foreign tourists recently. To reach the cave, you need to climb 486 stone steps first. Right when you finish the last one, an incredible panorama will spread before you – large green or yellow paddy fields and a peaceful river between consecutive mountains. An ancient artificial structure merged in the magnificent beauty of nature will never lose its allurement.
Being one of the most well-known sites in the North, Trang An complex can't be ignored. A boat trip is a perfect way to behold all the marvelous sights here. Besides the omnipresent exceptional sceneries, Trang An offers a high number of attractions such as Trinh Temple, Suoi Tien Temple, Cao Son Temple, Dia Linh Cave, Ba Giot Cave, Boi Cave, etc.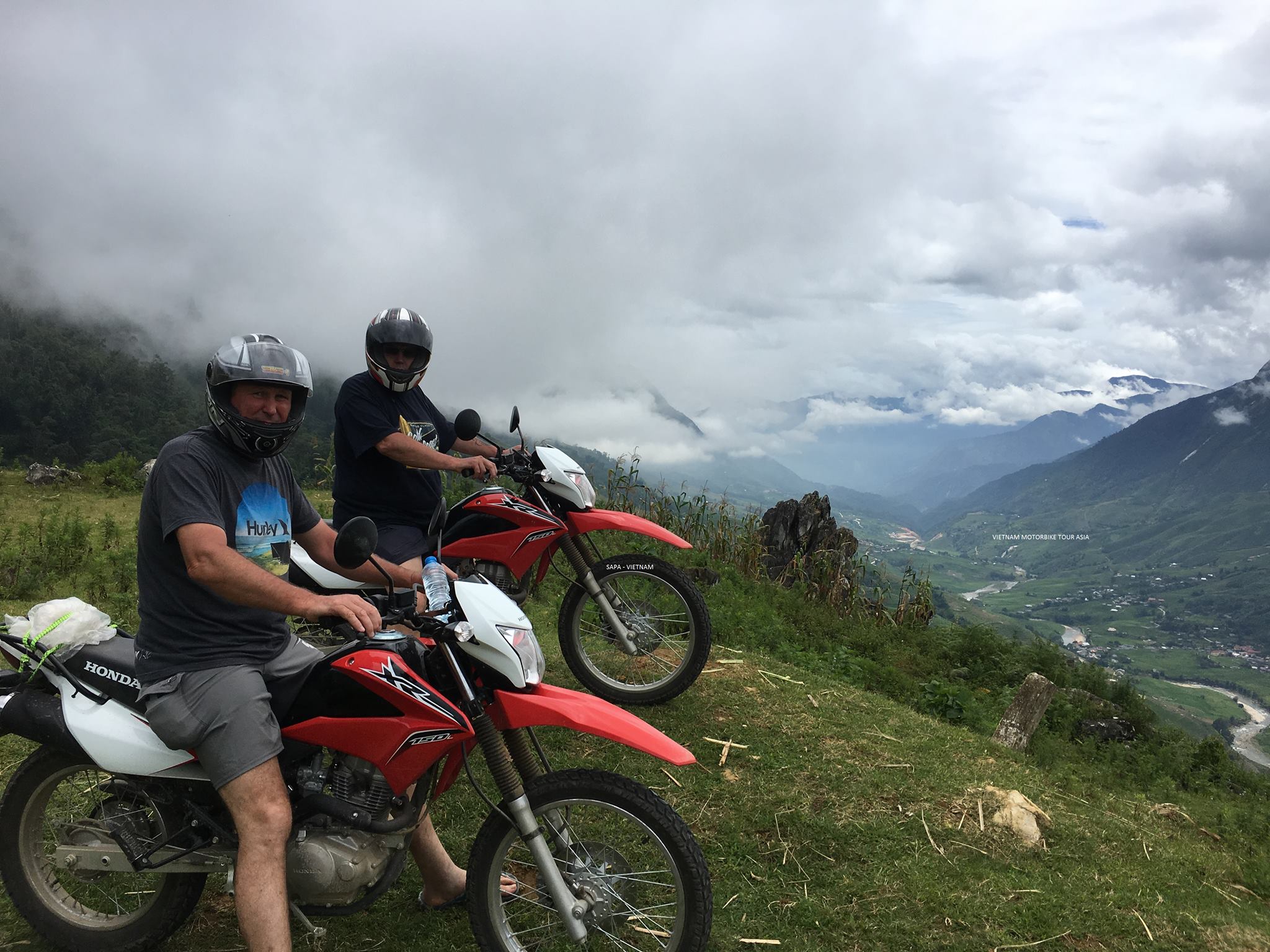 Hoang Long River will lead us to the Cuc Phuong forest – the very first national park in Vietnam. Here you are going to encounter plenty of rare animal and plant species. Some recommended sites in the park are Trang Khuyet Den, Con Mong Den, Yen Quang Lake, and May Bac Peak.
After visiting Cuc Phuong National Park, we will join Ho Chi Minh Trail. Of all the sections throughout the trip, we consider this route the most perfect choice for off-road Vietnam motorbike tours. Ho Chi Minh Trail is the legendary road establish in wartime. It contributed a lot to the winning of the Vietnamese nation against the US army. The road will quickly become more challenging with single off-road tracks that require superior driving skills. The series of obstacles will culminate by conquering Thung Khe Pass – one of the most famous passes in the North.
Thung Khe Pass is also known as White Rock Pass, as the rocks here (as you can guess) are white. The pass is 1000 meters above the sea level so that you can contemplate the whole Mai Chau from it. Thung Khe attracts adventurous tourists with sharp curves and the view it offers. Especially in the foggy days, you should pay extreme attention. After overcoming the pass, we are ready to explore Mai Chau.
Day 3: Mai Chau – Hanoi
The first beauty spot we will visit today is Ba Khan Lake, which is often likened to the Ha Long Bay on mountains. Lurking beneath the veil of mist, Ba Khan Valley is like a forgotten paradise. A multitude of tiny mountains emerging on the still water surface is a stunning painting created by the skillful hands of Mother Nature. Meandering around the environs, you may come across Go Lao Waterfall, which looks like the smooth hair of an angel.
In Mai Chau, we have an excellent opportunity to take a closer look at the daily life of ethnic minorities by approaching some villages. In Lac village, you will see traditional stilt houses, gorgeous terraced fields, and hospitable local people with unique cultures. The more we understand the life of residents here, the more we love Vietnam.
To make our trip a balanced on-road and off-road motorcycle tour, we will go on a different road to get back to Hanoi. The way back will include some more narrow off-road tracks, so the journey will definitely be more fun.
As we have said, the trip from Hanoi to Mai Chau via Ninh Binh is a great route to have on-road and off-road motorcycle tours. Incredible landscapes, phenomenal food, friendly people, and memorable riding experiences – all will be included in this trip. Believe us – this tour won't make you regret it at all.