Recently Vietnam has become one of the hottest tourist destinations in Southeast Asia. Especially for people who love traveling by motorcycle, the S-shaped land has an irresistible attraction. The North of the country is considered an ideal place to take a motorbike tour in Vietnam. However, not everyone has enough time to experience real off-road tours since most of them last up to nearly a week. The off-road tours from Hanoi to Ta Xua is a feasible solution here. Although the journey may not be too long, it covers a multitude of marvelous landscapes and challenging tracks. If you are ready to venture, let's find out how good this trip can be.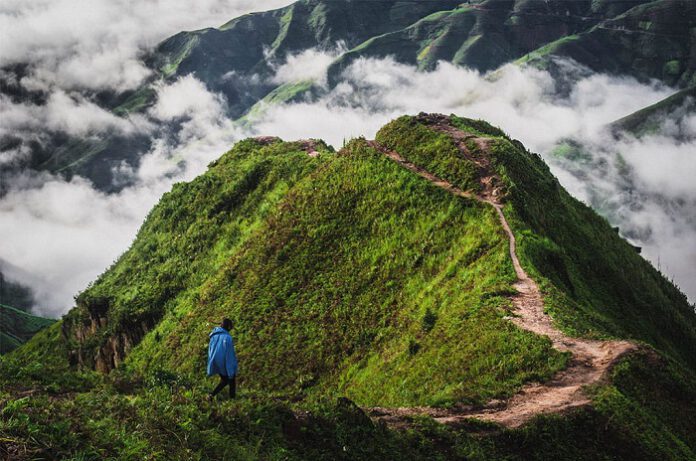 Why Ta Xua is one of the best destinations for off-road tours?
Maybe you are wondering where Ta Xua is and if such a short tour can bring us precious experiences. Ta Xua is an upland commune in the Bac Yen district of Son La province. Before 2011, it was pretty challenging to reach this locality. Since the road to Ta Xua was built, this site has become the favorite destination of many off-road tours. With an altitude of 2000 meters above sea level, Ta Xua is always cool, and even chilly in winter. According to experienced travelers, the best time to come here is from November to March next year. This tourist attraction is dubbed as the Cloud Paradise of the North. 
Before reaching Ta Xua, many people doubt the attraction of the tour; then, they change their minds. The trip has brought them memorable moments. Right after you enjoy even open roads, the rugged off-road tracks will be there waiting and daring you to overcome. Twelve kilometers of extreme off-road mountain tracks to the top of Ta Xua can discourage even tough travelers.
In Ta Xua, there are up to 3 magnificent peaks for you to conquer. The highest one is 2850 meters high. A unique thing about the Ta Xua mountain range is that it is often likened to the backbone of dinosaurs. Climbing up to the mountain peak and trekking is pretty like a scene in Mission Impossible series. Let's hope that we are as tough as Tom Cruise. Right when you reach the top of the mountain range, you'll find out why people keep saying that Ta Xua is the best place to hunt the clouds. The cloud sea will spread out before you and capture all of your attention.
Suggested itinerary for off-road tours from Hanoi to Ta Xua
That may be enough to convince you that off-road tours to Ta Xua are really worthwhile. Let's take a closer look at a suggested itinerary. Setting off from Hanoi, we will head for Trung Ha Bridge first. This bridge spans the lower reaches of the Da River in Vietnam, connecting Ha Noi city and Phu Tho province. Da River, also known as the Black River, is one of the most significant rivers of the North. The great river has been mentioned a lot in Vietnam literature. Following National Highway 32, we go to Phu Yen and Bac Yen town.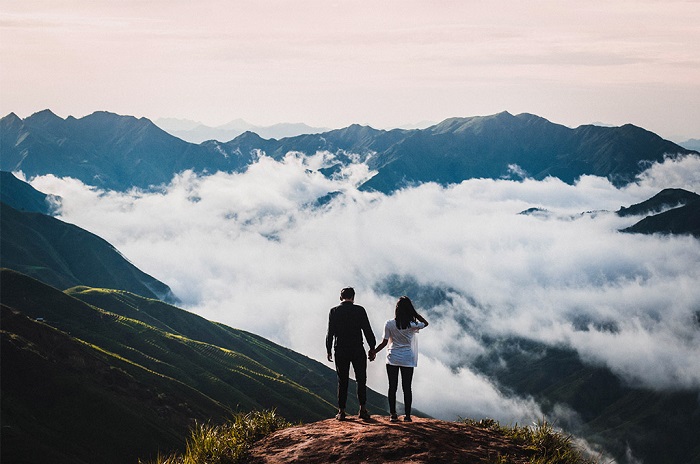 Prepare yourself because the next thing may be one of the toughest moments ever. We will ride upward to reach the top of that towering nearly vertical mountain. Even if you have a lot of experience in riding a motorbike, you'd better not lose your concentration then. We should warn you first that the road is perilous. One single minor mistake can cost you an arm and a leg, or more. So if you are not really confident with your riding skills, it is advisable not to join a motorbike tour. But once you are at the top of Ta Xua, the breathtaking grandeur of landscapes around you will dispel all the tiredness. However, it's quite windy on the top, so you still need to be careful. Barbeque party with some good cans of beer is perfect for enjoying while contemplating the picturesque panorama then.
After exploring the evergreen valleys of Ta Xua, we can start to return to Hanoi. For adventurous travelers who always want more challenge in off-road tours, we still have one more surprise. On the way back to Hanoi, instead of going on the usual way, we can experience one of the four so-called bikers' graveyards in Northern Vietnam. This is what we want to show you the whole time – an unbelievably off-road rugged dirt track. What's more, it is 35 kilometers long. If you are ready, twist the throttle and conquer this last obstacle right away.
Conclusion
As you can see, off-road tours from Hanoi to Ta Xua may take you only two days, but it can give you what you have always been aching for – a sense of adventure. Overcoming the hazardous yet exciting route, you will encounter precious sights of North Vietnam – imposing mountain ranges, stunning terraced fields, tranquil, rustic villages, and a full scenic view of clouds. Do you love traveling? Do you want something challenging? Do you want to explore the beauty of Vietnam? If the answer is yes, visit bmtravelmotorbiketour.com for more details about Vietnam motorbike tours prices and services.