Have you ever been to Vietnam? Even if you have not, you may have heard of a "modern" Saigon, "lovely" Hanoi or "romantic" Dalat. But this is not everything about Vietnam. This country still has a lot of wild, wonderful and amazing landscapes waiting for you to explore. 
Many travelers who once set foot in Vietnam confess that they can not resist the flawless beauty of the Vietnam northern loop. Sounds interesting, right? This article will guide you on the ways to conquer it.
Let's scroll down and take some notes for your adventure to the northern loop!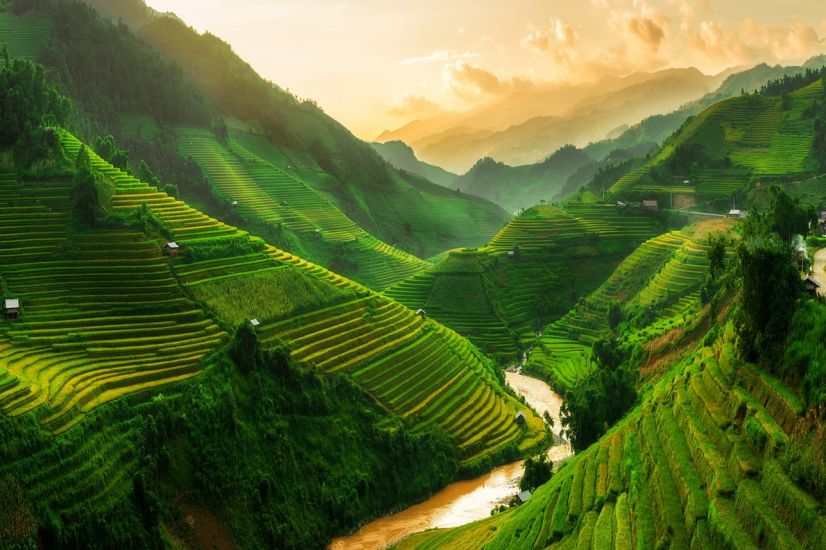 How to travel
When it comes to means of transport to travel to this place, you have a myriad of options such as a car, trains or buses. If you live in the South, you can take a plane in Hanoi and then move to the desired location.
But, real adventurers always choose motorbikes to Northern Loop Vietnam. Why? They say: "If you do not go there by motorbike, you are not really there". Many travelers feel excited to conquer the loop where they can enjoy the immense mountains and forests.
Do you also love the Vietnam loop? But you are not confident enough to take it by yourself? Then, it is advisable to take part in motorbike tours in Vietnam. Your trip will be safer and you can also be guided by experienced travelers. 
When to start
Vietnam northern loop looks beautiful all year round but spring and autumn are the best time for you to visit it. In the spring, a variety of flowers bloom while the cool autumn witnesses golden terraced fields stretching as far as the eye can see.
Do you want to know the best part? You can experience the traditional festivals and spring market-days here. Such a great chance to discover the highland culture!
Where to stay 
Well, it is not a good idea to sleep in a tent while taking the Vietnam northern loop. The terrain is rough and it is also cold at night. So you had better look for some hotels, motels or homestays.
This area is not crowded, but finding a place to stay is not difficult. Along the road, there are small towns where several motels or hotels are located. Although their quality is not superior, the hosts are very friendly and willing to give you a hand.
If possible, the ones located in the center are the best choices. You may find it easier to move to any destinations in the north. Besides, you do not worry about the food since most mouth-watering dishes gather in the center.
What to eat 
This region serves you the cuisine that can be hardly found in any other places in Vietnam. The out-of-the-world specialties here will blow your mind for sure. Let's have a look at the northern loop menu:
Bamboo-tube rice

: A specialty from nature. Rice is put in the bamboo tube before being baked. Even if you eat it with salt, you will never forget the taste and smell.

Buffalo meat

: This dish is cooked delicately. Buffaloes are grazed and then slaughtered. After that, it will be smoked with carefully selected firewood.

Thang co

: Actually, many Vietnamese people have never tried it. They make "thang co" from buffalo and horse meat. Eating "thang co" and drinking wine means you are enjoying the real flavor of northern Vietnam. 
You will also get other specialties such as forest vegetables or bamboo shoots. Whatever you choose, it will surely give you an unforgettable experience. Come to enjoy and aftertaste will linger in your memory.
What to wear
Because it is a mountainous region, the weather is cold and foggy. Moreover, the humidity here is quite high. The road may be slippery due to dew and rain. The right outfits can help you get through these issues.
Clothing

: If it's cold, bring warm clothes. Dark outfits will also make you warmer. Ladies, forget your skirt and shorts too! Clothes only look good when they are worn at the right time.

Shoes

: Nothing is better than a pair of sneakers. They can warm your feet. You should choose waterproof ones to make your journey easier.
Where to visit 
Wow, this must be your favorite part! Taking a Vietnam motorbike tour to the North, you will see many beautiful scenes that attract a large number of domestic and foreign tourists. We will suggest some.
Traveling to Vietnam northern loop without visiting Sapa would be your biggest mistake ever. Sapa attracts visitors by not only the beautiful landscapes here but also the traditional customs of the ethnic minority groups here. Coming to Sapa means that you are experiencing the typical mountainous culture in Vietnam.
Mu Cang Chai has just appeared in Vietnam's tourism map in recent years, but it has had a significant impact on travelers. Do you know why? It has the most magnificent terraced fields in Vietnam. Besides, the fresh air mixed with the fragrance of ripe rice will make you unable to leave.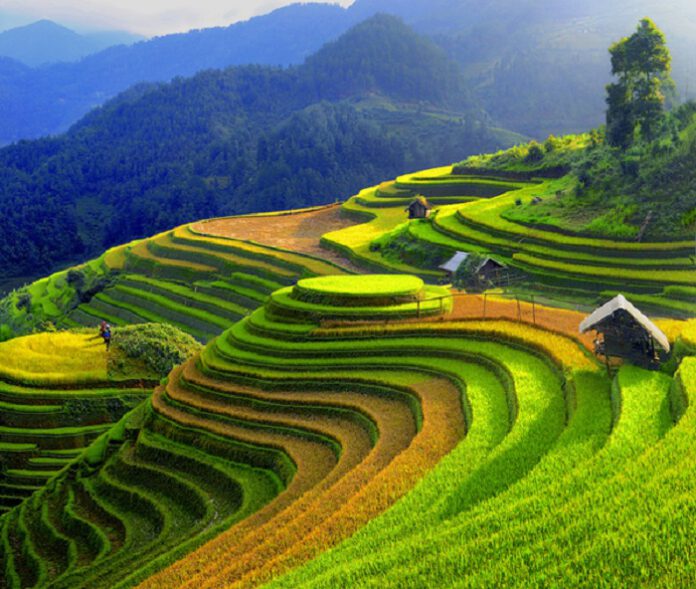 If you are not too keen on the majestic beauty of Mu Cang Chai, let's go to Moc Chau. The flower and tea fields here give tourists a sense of elegance. They look the best from September to November. Believe or not, just visit Moc Chau at that time and it will enthrall you.
Ha Giang is the combination of Sapa, Mu Cang Chai, and Moc Chau. Besides the fields, it also brings travelers cultural experiences. Ha Giang always looks gorgeous. This province is famous for buckwheat flowers. When these flowers bloom, you can watch "the most beautiful Ha Giang".
In Conclusion
Maybe, the hard trip breaks your resolve. Also, the magnificent nature makes you overwhelmed. But, that is why people come to Vietnam northern loop. Although Vietnam is developing rapidly, it still retains its pristine beauty. 
If you are fed up with high-rise buildings and congested roads, why don't you spend time on an adventure to the wild? This would be an unforgettable memory in your life. We bet it!